Red Queen (Red Queen, #1) by Victoria Aveyard Review
December 08, 2017
Hardcover, 383 pages
Published February 10th 2015 by HarperTeen
This is a world divided by blood – red or silver.
The Reds are commoners, ruled by a Silver elite in possession of god-like superpowers. A
nd to Mare Barrow, a seventeen-year-old Red girl from the poverty-stricken Stilts, it seems like nothing will ever change.
That is, until she finds herself working in the Silver Palace. Here, surrounded by the people she hates the most, Mare discovers that, despite her red blood, she possesses a deadly power of her own. One that threatens to destroy the balance of power.
This is a world of betrayal and lies, and Mare has entered a dangerous dance – Reds against Silvers, prince against prince, and Mare against her own heart.
Review:
I've read a lot of mixed reviews about the book but I finally gave it a chance. And it was the best decision I could have made. You know every typical cliché you see when you read an YA Dystopian book? Forget about them. Red Queen will outsmart everything you though you knew.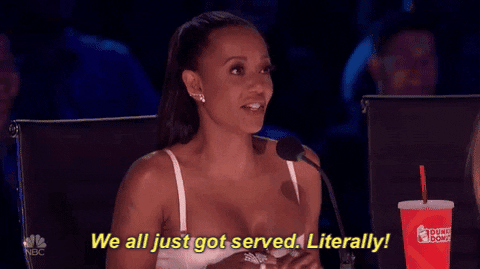 The entire story is so fascinating and attention grabbing. The whole new world that Victoria Aveyard introduces us to is beautifully written, complex and explained throughout. With every page you feel more connected with that world. The author gave us a full action-packed story, filled with treacheries and forbidden romance. It was everything I love in a book multiplied by a thousand.
The gods rule us still. They have come down from the stars. And they are no longer kind.
The characters were also what I absolutely loved. They were introduced each in their own way and we got to know them all a little before they got all mixed up with each other. First, we got to know Mare, then her family and friend, then the princes and the royal family… All in it's timeframe. Because there are a ton of character and sometimes it can get confusing. The author did a great job at making sure we knew them individually, that we knew about their motivations and the reasons for their actions. So, everything was so much intriguing.
I'm betraying my cause, Maven, and myself, but I don't want to stop. Anyone can betray anyone. His lips are on mine, hard and warm and pressing. The touch is electrifying, but not like I'm used to. This isn't a spark of destruction but a spark of life. As much as I want to pull away, I just can't do it. Cal is a cliff and I throw myself over the edge, not bothering to think of what it could do to us both. One day he'll realize I'm his enemy, and all this will be a far-gone memory. But not yet.
The book also pushes a lot of boundaries. It takes its characters to a whole new level, pushing them do to things that they never considered. It makes us believe certain situations or characters that we surely shouldn't be leave. And it makes the palace and royal intrigues and backstabbing sound so fascinating.
Victoria Aveyard did a wonderful job in writing and dividing the book, so we couldn't get confused due to the intricate story behind it all. So, I will very quickly try to get Glass Sword to see if it's even better that the first book as I hope it will be, and to try and get some answers see some people getting avenged.