Dirty Angels (Dirty Angels, #1) by Karina Halle Book Review... I F**** Heart This so badly!!
June 29, 2014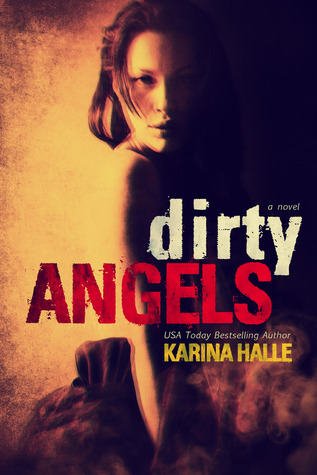 Kindle Edition, 309 pages
Published June 15th 2014 by Metal Blonde Books
For Luisa Chavez, a twenty-three year old former beauty queen, a better life has always been just out of her reach. Sure, she's had men at her feet since she was a young teenager but she's never had the one thing she's craved – security. Having grown up in near poverty, her waitressing job in Cabo San Lucas can barely let her take care of herself, let alone her ailing parents.

When Salvador Reyes, the depraved leader of a major Mexican cartel, takes an interest in her, Luisa is presented with an opportunity she can't afford to pass up. She'll become Salvador's wife and exchange her freedom and body for a life of riches – riches she can bestow upon her deserving parents. But Luisa quickly finds out that even the finest wines and jewels can't undo the ugliness in her marriage, nor the never-ending violence that threatens her every move.

Soon, Luisa is looking for an escape, a way out of the carefully controlled life she's leading. She finally gets her wish in the worst way possible.

As it is, being the wife of Salvador makes her an ideal target for rival cartels and there's one particular man who needs Luisa as part of his cartel's expansion. One particular man whose quest for power has destroyed lives, slit throats and gotten him out of an American prison. One particular man who will stop at nothing until he gets what he wants.

That man is Javier Bernal. And he wants Luisa. He wants to take her, keep her, ruin her.

Unless she ruins him first.
Book Review!!
I was so mad when Javier got arrested in Bold Tricks and how much of a bitch Ellie could be to him. So when i saw that javier was going to get a second chance i was soooo happy. Seriously, i was counting the days until this book came out. And OH MY SWEET GOD! This book is better than chocolate cake and pizza mixed together!
The story will wow you from the very beginning and it will leave you breathless until the last chapter. It's full of twists and turns to make you dizzy and to never let you get bored. Because in between the hot scenes between Javier and Luisa and the desire for revenge that Luisa has against Salvador, it's absolutely maddening.... and i freaking loved it! It's filled with accelerating action, torture and weapons. What more could you ask for?
I cannot tell you how much i love Karina Halle's type of writing because it's so full with passion and so exciting and that it's what makes this book memorable. Even more so than The Artist Trilogy for sure!!
Remember the Javier that went to jail in America? Now, he's out of prison and he wants to make his cartel bigger and stronger... He wants to rule the underworld and for that he has to take down Salvador. It's not going to be easy but he's willing to give all he's got in order to make that happen! And let me tell you that Javier went up on the sexy scale like a million times more, because now he's even more of a badass than he's ever been. He's cocky, arrogant and downright sinful.
And that's when I knew, with nothing but a smile, my Luisa, my queen, had broken me.
Luisa is the girl that is used to being mistreated by Salvador and when she finally gets the courage to escape she gets caught by Javier (Tough luck she has.) , which takes a liking to her because she refuses to be broken by anyone and she's a survivor! And then the romance begins. This romance is way better than Ellie and Javier ever were, let me tell you.... It's more carnal, more lustful and so much more passionate.
They could try and carve me up, they could rape me, torture me, try and confuse me with hospitality, but they would not get to me. They would not break my soul. They would not see my pain.
Luisa and Javier make the perfect couple. She has the darkness inside of her to help him rule and he has a heart of steal that he's willing to give her. I think Karina Halle managed perfection with these two...
"Why do you want to break me so badly?" she asked quietly, just as my hand went to the doorknob.
I paused and thought about the truth. Without looking back at her I said, "Because I want to destroy beautiful things before they can destroy me."
Dirty Angels is a memorable book that will take you places you never been before. Definitely a must read for the summer!